Issue description:
On my new smartphone (Samsung Galaxy A54, Android 13), I have an unwanted effect with the volume change.
When I play something via UPnP, I can change the volume of the UPnP device properly.
When I change to local playback while still playing and then change the volume, not the Symfonium volume modal is shown, but the OS volume slider - but it still is a slider for a remote player (computer icon). The local volume often does not change then. I have to expand the volume slider so I see the different sliders, then manually move the slider for local volume (note icon). The slider for remote volume will change with it in parallel, although not exactly at the same level.
After I did that, I can use the hardware volume buttons again, but they will behave differently (volume jumping in different/bigger steps).
Probably an Android or Samsung One UI issue, but maybe there is a way to work around that?
Logs:
Sent via email to support mailbox: 20230527_150551
Screenshots:
Normal UPnP volume change with Symfonium modal: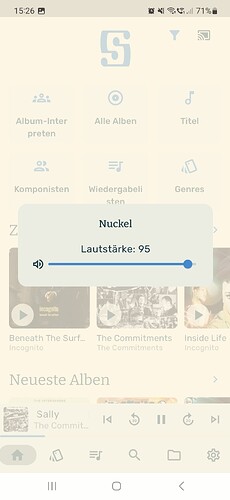 (Expanded) OS volume sliders after switch to local playback: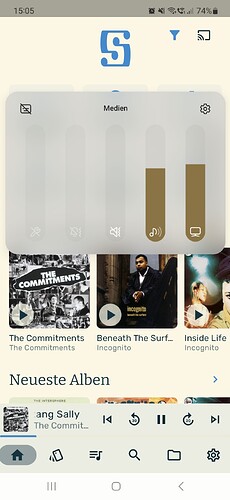 After volume change (both sliders moved in parallel):