Issue description:
When connected to a Bluetooth device that displays the metadata of the currently playing song, metadata does not update when a new song starts (either by the previous song ending, or tapping the "next" button). The metadata is displayed correctly within the app itself, the issue is only with the metadata over Bluetooth. If I select a new song (by tapping on its name), the metadata is updated.
Steps to reproduce:
Connect to a device via Bluetooth that displays track metadata (a car, for instance).
Play a track in Symfonium, and either wait for the song to end, or press the skip button to go to the next song.
The metadata on the Bluetooth device is not updated with the correct information.
Logs:
debug-20220728_193100.zip (40.8 KB)
Screenshots:
Not really sure how I'd take a screenshot given the nature of the issue, but I took this photo of it occurring: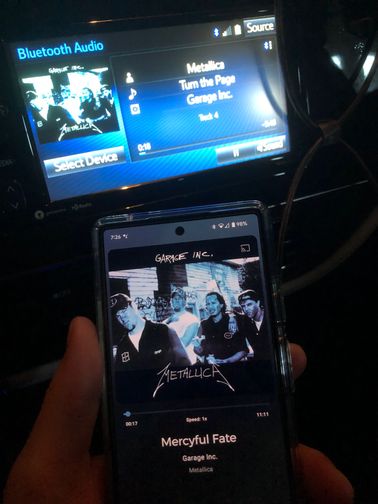 Additional information:
The issue does not occur every time I press the skip button or a song ends, however it is consistent enough to the point where it should be easily reproducible.
The metadata seems to correct itself if I pause the music.
I am using Symfonium 1.5.0 on a Google Pixel 6 running Android 12 (though I have experienced this issue on multiple devices, also running Android 12).
My media provider is Subsonic (the server is using Navidrome 0.47.5).
I've tried killing the app and restarting it, uninstalling and re-installing it, restarting my device, etc.
I do not experience this issue when using other music apps, such as Spotify.
The issue seems to have appeared with the latest update, this wasn't occurring before that.