Issue description:
I listened to 2 entire albums from the offline-cache in Symfonium while not connected to the internet.
When I reconnected my phone none of the songs that I listened to while not connected were scrobbled.
Only the first track which I started playing while I was still connected and the last 4 which were played when I was connected again ended up in lastfm.
In the jellyfin activity log all songs I listened to offline share the same timestamp. Maybe that's why they were not scrobbled?
Is that due to how/when Symfonium submits the played status once a network connection is re-established or is something wrong on the Jellyfin side?
My scrobbles are handled by multi-scrobbler which I've added to jellyfin via a webhook that has worked flawlessly until now.
I'm unsure if the problem is Symfonium, Jellyfin or multi-scrobbler, my hunch is that it might be multi-scrobbler as the webhook states "playback progress". I'll take it up with the developer of multi-scrobbler if that is the case. Whatever Symfonium transmits to jellyfin for a finished play probably doesn't fall into the "playback progress" category.
To test further I've downloaded a single track to offline-cache, turned off internet, turned on debug logging, listened to it, turned internet back on and waited for a minute.
That track also showed up in the jellyfin activity log, however neither multi-scrobbler nor lastfm took notice. I'll include that log.
Logs:
Jellyfin activity:
User1 has finished playing Lisa Hannigan - What'll I Do on OnePlus HD1903
today at 1:24 AM
User1 has finished playing Lisa Hannigan - Safe Travels (Don't Die) on OnePlus HD1903
today at 1:22 AM
User1 is playing Lisa Hannigan - What'll I Do on OnePlus HD1903
today at 1:22 AM
User1 has finished playing Lisa Hannigan - Safe Travels (Don't Die) on OnePlus HD1903
today at 1:22 AM
User1 has finished playing Lisa Hannigan - Safe Travels (Don't Die) on OnePlus HD1903
today at 1:18 AM
User1 has finished playing Lisa Hannigan - Safe Travels (Don't Die) on OnePlus HD1903
today at 1:18 AM
User1 has finished playing Lisa Hannigan - Passenger on OnePlus HD1903
today at 1:17 AM
User1 has finished playing Lisa Hannigan - Passenger on OnePlus HD1903
today at 1:17 AM
User1 is playing Lisa Hannigan - Safe Travels (Don't Die) on OnePlus HD1903
today at 1:17 AM
User1 has finished playing Lisa Hannigan - Paper House on OnePlus HD1903
today at 1:13 AM
User1 is playing Lisa Hannigan - Passenger on OnePlus HD1903
today at 1:13 AM
User1 has finished playing Lisa Hannigan - Paper House on OnePlus HD1903
today at 1:13 AM
User1 has finished playing Lisa Hannigan - O Sleep on OnePlus HD1903
today at 1:10 AM
User1 has finished playing Lisa Hannigan - Nowhere to Go on OnePlus HD1903
today at 1:10 AM
User1 has finished playing Lisa Hannigan - Little Bird on OnePlus HD1903
today at 1:10 AM
User1 has finished playing Lisa Hannigan - Knots on OnePlus HD1903
today at 1:10 AM
User1 has finished playing Lisa Hannigan - Home on OnePlus HD1903
today at 1:10 AM
User1 has finished playing Lisa Hannigan - A Sail on OnePlus HD1903
today at 1:10 AM
User1 has finished playing Lisa Hannigan - Lille on OnePlus HD1903
today at 1:10 AM
User1 has finished playing Lisa Hannigan - Teeth on OnePlus HD1903
today at 1:10 AM
User1 has finished playing Lisa Hannigan - Pistashio on OnePlus HD1903
today at 1:10 AM
User1 has finished playing Lisa Hannigan - Courting Blues on OnePlus HD1903
today at 1:10 AM
User1 has finished playing Lisa Hannigan - Keep It All on OnePlus HD1903
today at 1:10 AM
User1 has finished playing Lisa Hannigan - I Don't Know on OnePlus HD1903
today at 1:10 AM
User1 has finished playing Lisa Hannigan - Splishy Splashy on OnePlus HD1903
today at 1:10 AM
User1 has finished playing Lisa Hannigan - Sea Song on OnePlus HD1903
today at 1:10 AM
User1 has finished playing Lisa Hannigan - Venn Diagram on OnePlus HD1903
today at 1:10 AM
User1 has finished playing Lisa Hannigan - An Ocean and a Rock on OnePlus HD1903
today at 1:10 AM
User1 has finished playing Lisa Hannigan - An Ocean and a Rock on OnePlus HD1903
today at 12:14 AM
User1 is playing Lisa Hannigan - An Ocean and a Rock on OnePlus HD1903
today at 12:04 AM

Debug log from the 1 track test:
debug.log (116,4 KB)
Screenshots:
I've added the webhook to jellyfin as instructed here: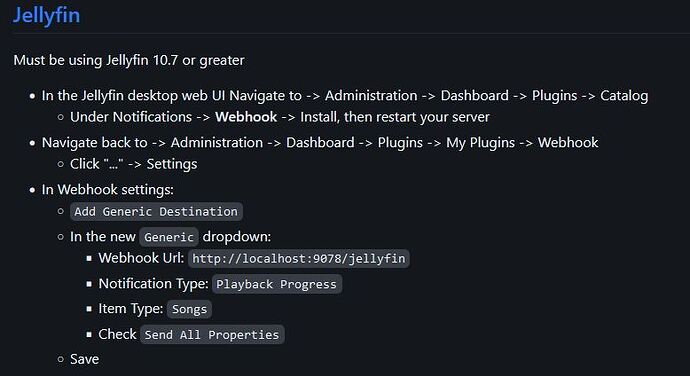 The only tracks that made it to lastfm: