Issue description:
I have cached my entire collection on my phone, but when the server is unreachable for any reason (e.g. I'm not on my home WiFi) the album art images are not available. The music is available, so I can scroll through lists, select albums & tracks, play them, etc., but the images don't show up. They're not displayed in lists, album view, or the now-playing screen. A few images seem to be cached from the last time I was online, but only a very small number.
Logs:
debug-20230415_112941.zip (1.3 KB)
Screenshots: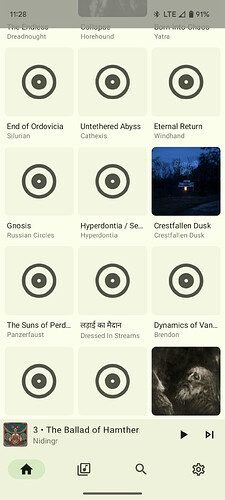 Additional information:
I'm using an Airsonic server, version 11.0.0-SNAPSHOT.20220625052932
That log looks pretty sparse, just a dozen or so DB queries, let me know if I need to capture a longer session.