Feature description:
In "Now Playing" the (optionally displayed) album artist field should be clickable and link to the album artist like the artist and album fields do.
Same goes for when you click the 3 dots on a track to choose "More options".
That also only displays "Go to album" and "Go to artist". "Go to album artist" would be useful as well in my opinion.
Problem solved:
When I want to see the albums by "Kenji Kawai", I have to get to the album artist, which I've saved as "Kawai, Kenji" (for example, this applies to all album artists consisting of "last name, first name").
To see the album artist of a song starting in "Now Playing" I have to click on the album and from there I click on the album artist displayed below the cover or I click the 3 dots in the corner of the cover and from there I can click "Go to Kawai, Kenji".
That's 2-3 steps minimum to go from a playing track to the album artist of the album the track is on.
With album artist in "Now Playing" clickable and linked to the "album artist" it would be 1 step instead.
Brought benefits:
Quicker navigation through the app for people who rely on album artist instead of artist tags.
Not feeling stuck when trying to figure out how to go to the album artist coming from a song.
Additional description and context:
Since displaying the album artist in "Now Playing" is optional to begin with I don't think it would negatively impact the experience for people who do not rely on the "album artist" tag.
Screenshots / Mockup:
I've drawn up how I go about going from a song to the album artist in red: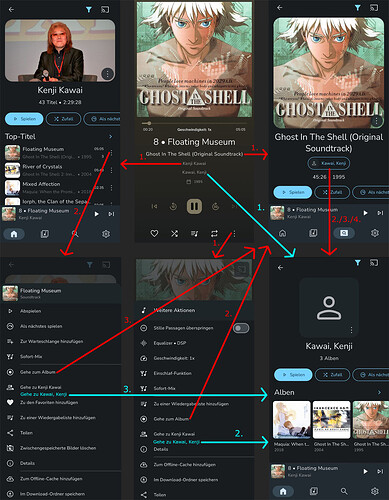 And how it would change with album artist in Now Playing clickable (+ how it would change if "go to album artist" was implemented under "more options") in cyan.