Issue description:
On the now playing screen, when scrubbing the progress bar anywhere on the on the line, the songs audio restarts from the beginning regardless of where the progress bar is. ALTHOUGH, changing either of these settings fixes the issue:
Playback cache size: 256MB>None, (Original value>New value)
Maximum bitrate (Cell, or Wifi): Anything but Original>Original
Logs:
debug-20230605_151036.zip (12.3 KB)
debug-20230605_151102.zip (843 Bytes)
Screenshots: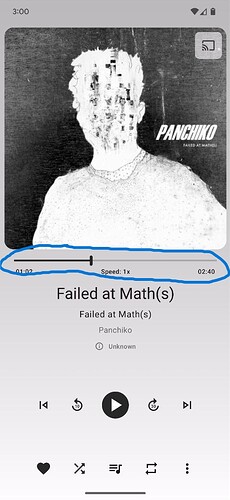 Additional information:
I hope that the screenshot made it more clear what I was referencing. I was having difficulty describing it clearly. To clarify, I mean moving the vertical bar that shows the progress along the horizontal line left or right, not pressing the buttons to skip ahead some time.
This is pulling from: Jellyfin 10.8.10
My server OS is Ubuntu 22.04 LTS
Symfonium version is v5.4.0 (1008)