Feature description:
I'd love the option to display a wavebar of the currently playing song instead of a flat progress bar or the animated wiggling bar, see screenshots as to how I imagine it could look like.
Problem solved:
I think plain progress bars lack information about the song.
When are the loud parts of the song coming?
Will the song remain silent or blast off my ears later on?
How is the overall loudness?
Was the click I just heard in the file or has my playback device a problem?
Is the song from the "loudness war" period and has no dynamic range or does my stereo suck?
A wavebar answers pretty much all of these questions at a glance (and I like how they look tbh).
Brought benefits:
Visualize the loudness, dynamic range and development of a song over time at a glance.
Quickly find the part of the song you want to hear (for example a suddenly silent part in an otherwise loud song is spotted instantly and vice versa).
Other application solutions:
MusicBee allows the user to select a Wavebar.
The screenshots I provide are actually edited with the wavebars taken from MusicBee.
I played the actual songs and resized the musicbee window until it fit the screenshots from Symfonium (at least in width).
Additional description and context:
I'm aware that for a wavebar to be created the whole song has to be loaded on the device, therefore I think a nice implementation would be a fade from the normal or animated progress bar to the wavebar that happens as soon as the song is fully loaded and the wavebar created.
Screenshots / Mockup:
Example 1: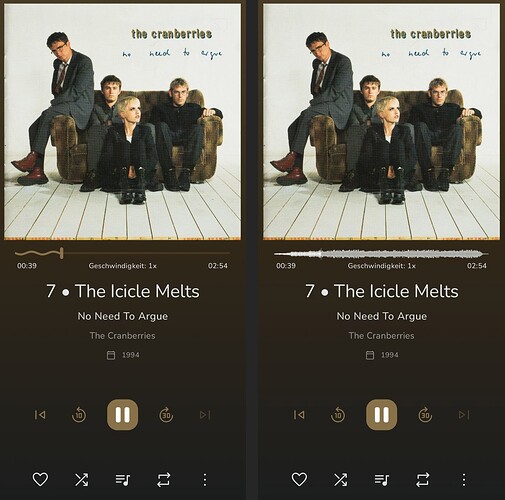 On a side-note: the cast button on the top right is barely visible on very bright covers like this one.
Example 2: