Feature description:
Allow the user to switch between displaying non square album artworks (such as covers of DVDs, blurays, box sets etc.) cropped to fill a square (current behaviour) and displaying them at their original aspect ratio in the "Now Playing" tab.
I'd rather see a smaller version of the full artwork instead of a crop, but as I know not everyone shares that preference, a toggle or setting would be a good solution.
Problem solved:
Either a global setting to decide what the user would rather see:
crop/zoom in to fill a square
display original aspect ratio
Or a toggle in the "Now Playing" tab itself to decide on a per cover basis.
Brought benefits:
Properly displaying artworks benefits everyone who took the time to find high quality art for their albums.
Screenshots / Mockup:
Current view: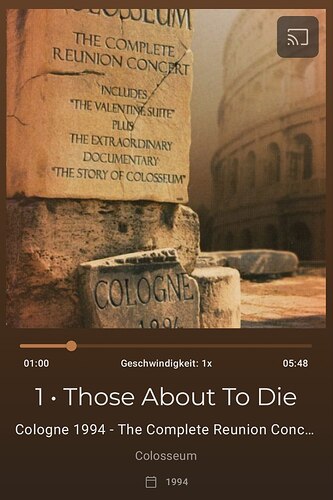 Mockup (missing the cast icon because I was too lazy to add it back in Photoshop):