Issue description:
Symfonium is eating through my data at a very fast pace.
I car commute in a 2015 Mazda3 and use Android Auto. I connect to Android Auto wirelessly by using a AAWireless (https://www.aawireless.io/). The AAWireless creates a Wi-Fi network that my phone connects to communicate wireless Android Auto data and audio. In Android Auto I use Symfonium to listen to music during my commute.
My thoughts are that since my phone is connected to a Wi-Fi network (AAWireless) Symfonium thinks that transcoding is not needed and downloads the full .flac instead of the .ogg in my transcoding configuration in Navidrome. Reality is that my phone is still using mobile data to access the internet and my files so my data is being chewed through at an accelerated rate.
I'm suspect this may be an issue with other wireless Android Auto users.
Logs:
debug-20220829_171723.zip (19.8 KB)
Screenshots: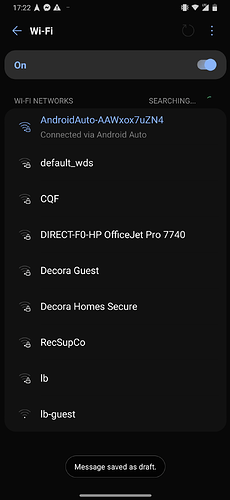 Additional information:
Posting this in the forum after our email exchange as requested.