Feature description:
Media Provider : Navidrome
Currently the homepage has options for random artists and random albums, but not random songs. I'd like to include random songs.
Problem solved:
Play a random selection of songs, with several different artists and albums, instead of the present, play one album/artist fully, before changing to the next. (When using the random feature)
Brought benefits:
This allows for a more varied listening experience. The current option of random artists/albums makes one listen to the entire album, which sometimes does get boring, listening to the same type of songs over and over.
Other application solutions:
N.A.
Additional description and context:
There is a way to achieve what I want in the current setup itself by placing a shortcut to songs on the homepage and clicking shuffle on the songs tab. However, since the homepage does have random artists and random albums, I believe it would be a better (read easier/lazier) experience to have random songs also on the homepage.
Screenshots / Mockup: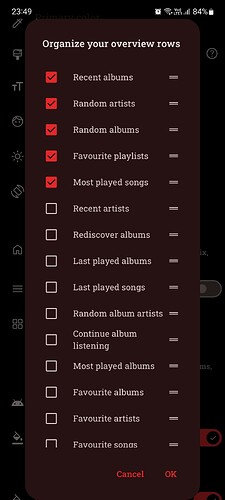 Screenshot showing available options for the homepage in interface settings.
Thank you.