Feature description:
According to Google's Material 3 guideline for the navigation bar component, it is recommended to have text labels underneath the icons. It is an accessibility feature to have text labels because sometimes icons can be indiscernible. Having the choice to toggle this would be great, such as (Icons only, Icons and labels, Icons with Labels only on the active destination).
Problem solved:
I have a few icons on this navigation bar and sometimes it's hard to know which one is which.
Some destinations also use the same icon, for example Album and All Albums, so having just the icons means they are indistinguishable.
Icons look nice but unless I have muscle memory of the location of my intended destination, or know which icon is which, sometimes I have to try a few times to get to the right place.
Text is still easier to interpret, icon should be a secondary visual aid.
Brought benefits:
If users can enable text labels and be able to read it, it will help accessibility more. I don't use screen readers but adding text might also help?
I don't often use the home shortcuts at the top because my phone is too big to reach, so I do rely a lot on the bottom navigation bar to get to where I want. With text labels added, it will improve the bar's usability.
I also really like the look with the labels included, but that's just my opinion. Symfonium is the best app in its field, one reason being its customization, having this additional option would be an extra bonus.
Other application solutions:
Here is ReadYou customization option for this
removed image
(I'm a new use so can't include more than one media, but they basically have option to show Icons, Icons & Labels, Icons & Labels (active only))
Screenshots / Mockup:
A few applications that follow this guideline:
LibreTube
As you can see, at the bottom, there are labels: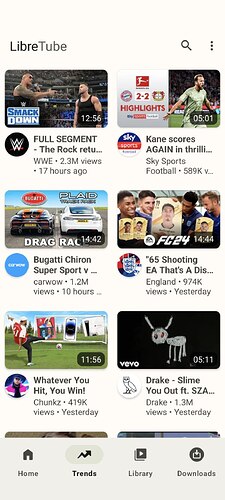 Sync for Lemmy
removed image (new user limitation)
InnerTune
removed image (new user limitation)