Symfonium now playing screen is (as most of the app) configurable from the settings, to better fit your needs.
You can change the style of the global screen, dynamic colors, the visible optional "lines", the image spacing, the style of the slider, … Most options are in Settings / Now playing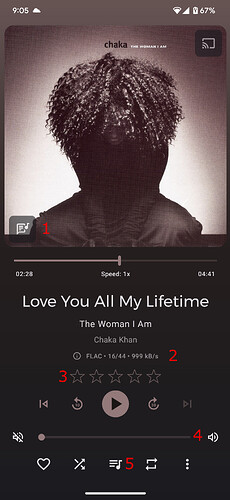 When available this icon displays the lyrics of the current media, or the chapter selection.
You can click on this line to change the displayed information, you can also long press it for a quick action related to the current data.
Optional row to allow 5 star rating. (See Settings / Now playing)
Optional row to directly control the volume. (See Settings / Now playing)
Open the current queue screen. (Can also be a simple swipe up anywhere on the screen).
There's also a few gestures supported on the image.
Single tap to play / pause.
Swipe up for the queue.
Double tap seek forward 30 sec.
Long press seek to start of file.
Example of a minimalist configuration: