Symfonium offers many settings and tools to help you configure the application to perfectly fit your needs.
Given the multitude of settings available within the application, a comprehensive tree of all settings can be accessed via [Wiki] All settings tree. This will facilitate the efficient and effective location of the specific setting(s) you require.
Settings
Configure many different interface related settings like themes, shortcuts, tab buttons, …
Configure most aspect of the player interface, compact and expanded.
Configure library related settings, including action on clicks, displayed data, …
Configure everything related to the actual playback. Equalizer, transcoding, playback cache, …
As the name suggest advanced settings and debug mode when requested by support.
Miscellaneous
Add, remove and configure media providers.
Manage the cached files, the download queue and the automatic cache rules.
Backup and restore your settings.
The application translations are crowd sourced, press this button to contribute for your language.
About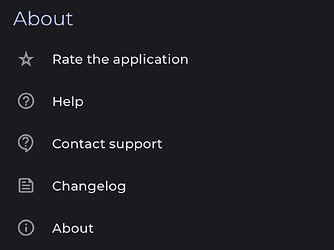 Rate the application
Press this button to leave a rating. For feature requests, support and issues, please use this forum as nothing can be done from a Play Store comment.
Help
Open this forum help page: Symfonium help and support
Contact support
Show the different ways to contact me. Using the forum is preferred as the information can be useful to others.
Changelog
Display the full changelog for the last version.
Full release history can be seen at Changelog - Symfonium support
About
Show the application version with some details.